The great thing about Atlanta is the range. It's either hotter than you've ever felt in your life, or cool and collected with a southern gentleman style that can't be beat. Depending on when you're going, and it better not be summer, Atlanta is a truly great place for a bachelor party. Unlike many southern cities, Atlanta has a great style and fashion center with tailors like Sid Mashburn offering bespoke, custom suits for those dandy-guys looking to celebrate in style. Atlanta's is also famous for soon-to-be grooms taking their first vow, where you and your buddies vow to never talk about what just happened again, in one of the city's legendary strip clubs. And if that doesn't sound like a good time, why don't you listen to this.
—Jimmy Im
Day 1
12 p.m. Check Into the W Buckhead
Arrive at Hartsfield Jackson International Airport, the busiest airport in the world. You may consider renting a car as Atlanta is sprawled out and has mediocre public transportation (Uber and Lyft have made bachelor parties more car-free-friendly these days, though, especially perfect for when you've been boozing). Head straight to the W Buckhead, in the heart of the Buckhead neighborhood. By day, the 291-room hotel is an urban resort and by night it's party central with a killer rooftop pool. Check into your stylish suite (there's only five) with a separate living area, wet bar, floor-to-ceiling windows, and signature 24-hour whatever/whenever service.
1 p.m. Lunch at Southern Art and Bourbon Bar
Since you're probably famished from the flight, take a three-minute stroll to Intercontinental Buckhead for Art Smith's Southern Art and Bourbon Bar. A James Beard Award winner, Art Smith was formerly Oprah's personal chef so you can expect the best. You'll devour Southern comfort food like Georgia shrimp and grits (with housemade andouille and okra) and buttermilk fried chicken, though you can't go wrong with the Southern Art Cheeseburger.
3 p.m. Stroll Lenox Mall
Atlanta is a mall city, period. Everything you would ever buy here is in a mall or a shopping emporium, and Lenox Mall is the mother of all malls. In fact, it's not just a mall, for many of the locals Lenox is a lifestyle. People come to chill out, eat at the number of restaurants, shop designer shops, get their laptops fixed, get their haircuts, or have a drink. Even if you're not looking to buy anything, the people watching is  top notch!
5 p.m. Beers at Gordon Biersch
Atlanta's notorious rush-hour traffic to midtown is a nightmare at this hour, so stick around Buckhead and walk a mile (or take a short Uber ride) to Gordon Biersch, a popular brewery that gets packed for happy hour. The German-style bier, malts, and lagers are crafted to the standards of the German Beer Purity Law (which is indeed a real thing), so you can expect top-notch drinks in a laid-back environment. Make sure to order the famed garlic fries.
Hop City Craft Beer & Wine has the largest selection of craft beer for purchase in the Southeast but even if you don't want to cart a few cases back to the hotel for a late-night rager, you can knock them back here with some of the 50 brews on tap. It's a zythophile's fantasy, and a cool local hangout. They offer classes on making your own brew at home too ($15/person), which you can call in advance to book.
When The Optimist opened in 2013, it was a top ten finisher in Bon Appetit's best new restaurants, and it took number one spot in Esquire's best new restaurants in the country. Not much has changed at this casual-yet-classy seafood house that gets packed with foodies every night of the week. Throw everything you knew about fish and chips and lobster rolls out the window; they're perfection here. Go crazy with the fresh oysters but also make sure you order a pitcher of the signature Fish House Punch, a classic colonial American recipe with dark rum, cognac, black tea, sugar, lemon juice, and a splash of Leopold Brothers' whiskey flavored with Georgia peaches.
A speakeasy-style neighborhood tavern, Ormsby's is all about having a great time rather than stirring up bar fights (those are reserved for somewhere in Buckhead). The upstairs feels like an modern, industrial pub but the downstairs level feels like your Dave & Busters-loving uncle's cool warehouse basement with pool tables, darts, TVs, and shuffleboard. And he just happened to invite some of the coolest people in the city over for a party.
Some people who grew up in Atlanta have been coming to the Northside Tavern for 50 years. This stand-alone local haunt is all about no-frills, stripped-down, anything-goes fun times with live blues, pool tables, and some of the dive-iest vibes you'll find in the ATL. It's a total fixture in the area, and a magnet for college students, washed-out rock stars, hipster indie rockers, and young finance types, who get so wasted they'll occasionally let a drunken "Freebird!" loose.
Day 2
12 p.m. Brunch at Holeman and Finch
After chilling at W Buckhead's outdoor pool, hole up at Holeman and Finch, a modern gastropub helmed by celebrity chef Linton Hopkins. He basically perfected the burger in Atlanta. In fact, it started off as a special and now it's a permanent menu item due to demand. The patties are a blend of chuck and brisket, which is ground in-house twice before it's pattied, and the homemade ketchup might be the best you'll ever have. If you're not feeling beef, opt for the soft shell crab with sweet corn, popcorn mayo, and cilantro or the fried oyster benedict.
2 p.m. Hit up Atlanta's world renowned attractions
Atlanta is known for its numerous globally recognized corporations, and you're going to check out some of their best offerings this afternoon in downtown Atlanta. Start off at The World of Coca Cola, where you can learn the history (Coke was originally a mistake, what?) and sample Cokes from around the world. Stroll through Centennial Olympic Park (home to the 1996 Olympics), check out the CNN Headquarters for a tour and then hop over to College Football Hall of Fame, where you'll find the greatest college football museum in the world (plus there's a ton of interactive attractions like kicking a football through a goalpost).
7 p.m. Catch a Game at SunTrust Park or Mercedes Benz Stadium
Atlanta-area sports fans have been recently gifted with two, bright, shiny, state-of-the art stadiums. If you're headed out in the spring or summer, catch a Braves game at SunTrust Park. If you're coming to Atlanta in fall or early winter, huddle up at a Atlanta Falcons game at Mercedes Benz Stadium. But before you head out to the game, now is the opportune time to hit up your significant other for a quick phone call. Totally worth it!
9 p.m. Dinner at Miller Union
Atlanta native Steven Satterfield (a James Beard award winner) is cooking up innovative, progressive, and truly delicious Southern/New American fare at Miller Union. If you don't order the lamb chops with English pea, carrot, preserved lemon, fennel, and mint, you're missing out. This is one of the most expensive restaurants in Atlanta but don't' be fooled by the prices. It's super casual for high-end dining.
12 a.m. Clubbing around Atlanta
Tongue & Groove is the go-to for special occasions in Atlanta thanks to banquets, VIP table service, and two huge spaces/dance floor with their own respective vibes (expect hip hop and top 40 in both areas though). Everyone says this is where the "beautiful people" go, but it's more where all the party people go, but they do happen to be good looking. And since you're coming here too, at the very least you'll get a boost from the proximity. Expect go-go dancers and live DJs and, at some point, one of those champagne bottles with sparklers.
MJQ is so old school, your dad still talks about partying here when he was on that summer bender. And it's still the best. MJQ has always been known as "underground" but in more ways than one. Not only has it survived on word of mouth (there's no website or phone number) it's literally underground. It's the type of place where you roll in early and dance until the sun comes up. Expect a high-energy vibe and the most eclectic crowd you'll find in Atlanta, where a mix of all sorts of different types—frat boys, fashionistas, rappers, ravers, hipsters, and more—meet to create one huge scene.
Don't expect phantoms at this Opera. This place is the number one nightclub in Atlanta, a perennial favorite for professional athletes, college students, dudes wearing sunglasses at 2 am, social media influencers, and everyone between. It's basically where all your EDM dreams (nightmares) come true. Swank, stylish, over the top, Opera is the closest thing to Vegas in Atlanta.
Day 3
12 p.m. Spa Time at Mandarin Oriental
Literally across the street from W Buckhead, Mandarin Oriental Atlanta (formerly Rosewood Atlanta) has the best hotel spa, which basically hasn't changed since its Rosewood days. It features steam, a sauna, and a vitality pool, as well as a 60-foot salt water lap pool and outdoor terrace, perfect for purging all the toxins from last night's epic adventure. There are men-specific treatments, including massages, with the best therapists in town, so treat yourself here.
2 p.m. Brunch at The Southern Gent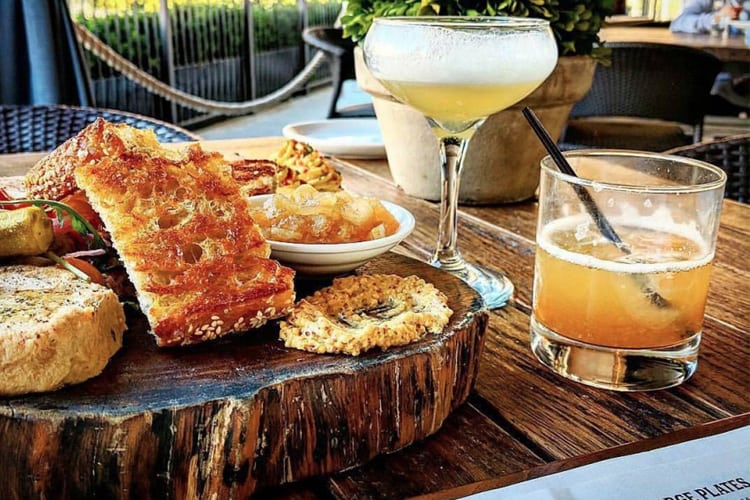 While it may sound like a sweater store, The Southern Gent is a stylish, gastropub with tufted camel leather booths, seersucker window treatments, herringbone floors and vaulted ceilings but with all of Atlanta's trademark Southern hospitality. Before you even get your food, order up a Bloody Mary carafe for the table, then go nuts over the chorizo frittata, smoked-citrus Canadian salmon, and pimento cheese and bacon omelet.
4 p.m. Neighborhood Bar Crawl
Not to get all travel-guru on you, but Atlanta is a huge convention city. Most travelers come in, see Buckhead and downtown Atlanta (including all the major attractions) then leave, which is a huge loss because the neighborhoods are what really makes Atlanta the city it is. So, we're sending you to Virginia Highlands, a highbrow neighborhood with tons of boutiques, and Little Five Points, an "indie" area crammed with cool mom and pop shops. Both are brimming with neighborhood restaurants, cafes, and bars, and they're more pedestrian-friendly than downtown and Buckhead. End up at Piedmont Park, a sprawling urban park where there's likely some festival going on. Toss a frisbee, lie down in the grass, do whatever you gotta do for a chill afternoon.
9 p.m. Drinks at The Local
How The Local is still operating is a mystery. Booze is super cheap, which makes it a huge hit for locals on a budget. It's one of Atlanta's best dive bar institutions, with no-frills, wooden seating, a tile floor that reminds you of a cafeteria, neon lights, a fun patio, and themed nights like Trivia and Karaoke. You're going to mingle with the most creative young bunch in Atlanta.
11 p.m. Strip Clubbing at Clermont Lounge
Prepare yourself for one of the wildest, most campy, and most amazing gentlemen's club in Atlanta. Clermont Lounge, Atlanta's first and longest-running strip club, is solid, low-brow entertainment, and you'll likely end up buying drinks for everyone because it's just a feel-good kind of place like that. The working girls are hit or miss, and there's a good variety here. Clermont Lounge is better than a theme park, and you will always find some sort of entertainment (like Mumford & Sons being kicked out here for taking a photo).  
4 a.m. Late Night Snack at Waffle House
There's no better way to end your bachelor party. Waffle House originated in Atlanta back in 1955 and it's one of the most famous diners in the world now, with hundreds of locations. If you've never been, everything you've heard about Waffle House is true. The food is insane and cheap, and the hash browns can turn you into a man.
Zero Hour
Atlanta traffic is hot too, a hot mess. Hartsfield Jackson International Airport (depending on the time of day and route) is between 16-18 miles away and a solid 40 minutes from your hotel. Set that wake-up call and leave yourself plenty of time to get gone. This is the end of the bachelor party so let's take you back to the beginning. We can help you start your planning right here.
—