From a history of rock n' roll to rock climbing, Seattle's got you covered when it comes to having a good time. The city has boomed over the last decade and it's easy to see why, after all, who doesn't appreciate a stunning view with their craft beer? Known for its outdoorsy vibe, there are plenty of rugged adventures to be had, but don't discount the buzzing culinary scene, vibrant nightlife, diehard sports fandom and penchant for burlesque. Seattle's bad reputation for weather often scares off potential visitors, but like all bad reputations, it's only half true. Summers are plenty hot, and although shoulder seasons do tend to cloud up, sprinklings are more the norm than downpours. So pack your rain jacket just in case, and for the next 72 hours explore the Emerald City with your dudes while you bond over the outdoors, brews and axe throwing (#squadgoals).
Day 1
9a.m. Land in Seattle
Arrive at Seattle-Tacoma International Airport and head for the Link light rail. Purchase a refillable Orca card (you'll need it to get around town) and take a 40-minute ride directly into downtown Seattle, getting off at Westlake Station. Walk two blocks to your home for the next three days, the Hotel Theodore Seattle. The most Seattle of Seattle hotels, the historic property was renovated top-to-bottom at the end of 2017 and showcases Seattle products and artifacts of the city's innovative past. Expect plush digs, an aperitivo hour, a lobby coffee bar, and Salt & Straw that delivers ice cream delivered to your room for those late night, post-drink binges.
12p.m. Head to Seattle Center
By now your group is getting hungry. Head to Westlake Center and hop the Monorail to Seattle Center. Before seeing the sites, grab some comfort food in the Armory at Skillet. Once you've fueled up on pork belly and waffles, and breakfast sandwiches spread with bacon jam, you can stick together or divide and conquer the area's attractions. Check out the latest pop culture exhibit at the MoPOP, learn about Jimi Hendrix and Nirvana, and jam out in the Sound Lab. Don't miss the new and improved Space Needle, whose recent facelift (bye-bye wire caging!) now allows visitors a 360 degree view of the city through floor-to-ceiling glass.
4p.m. Go Rock Climbing
Hoof it 20-minutes over to outdoorsman destination, the REI Flagship store. Geek out over satellite communicators and mountaineering tents before attempting the Rock Climbing Pinnacle Wall. The 65-foot climb provides a fun challenge with impressive views to boot, and the only gear you'll need to bring is your can-do attitude – REI provides the rest!
6p.m. Sample Some Beer
By now your group is working up a thirst. Get out those Orca cards and climb aboard a bus heading West down Stewart St. (time to consult your Google Maps) and arrive near local brewhouse, Pike Brewing Company for a chance to cool your heels a bit. Sample beers made in-house and find out once and for all if you're more of a Stout man or an IPA kind of guy.
8p.m. Eat A Sushi Dinner
You're in Seattle, the land where fresh seafood and amazing Asian cuisine meet, so sushi is a must. Take a quick 10-minute hike up to Umi Sake House where eel, scallops and quail egg are all on the menu along with an impressive sake list. We dare you to order the Hotter Than Hell!!! roll while you're there.
11p.m. Embark On A Bar Crawl
Now that you're nice and stuffed, it's time for a parting glass or two before hitting the hay. You're already in Belltown, one of Seattle's more lively night scenes, so all you have to do is hit the pavement and choose your own bar adventure – and there's many to choose from! If you're a pinball wizard, stop in at Shorty's, a fave dive with locals that's part-bar and part-arcade. For more of a speakeasy vibe, keep your eyes peeled for the alley entrance to Bathtub Gin & Co. and order a custom cocktail to end the evening.
Day 2
10a.m. Explore Capitol Hill
Your first thought when you wake up is going to be, "Ouch!" Salvation awaits 10 blocks down Pine St. in the form of Linda's Tavern, a joint steeped in '90's Grunge history – and they do a damn fine weekend brunch, too! After you've soaked up some grease, it's time to walk it off and explore one of Seattle's most eclectic neighborhoods, Capitol Hill. Visit legendary bookstore, Elliott Bay Book Company; peruse the shops – Sharply carries quality clothing and durable essentials; or browse music and indulge in a Seattle custom – re-caffeinating – at Porchlight Coffee & Records. Depending on how close your crew is, make a stop at Seattle Tattoo Emporium, the oldest parlor in the city. (All for one and for all, right guys?)
1p.m. Grab A Game & A Bite
With the, Mariners, Seahawks and Sounders based in Seattle, chances are a daytime game will be going on during your visit. Catch the Link in Capitol Hill and head for the stadiums where you'll bond with your friends and locals alike while rooting for the home team. Bonus? Seattle's sports venues have some of the best stadium food options in the country; you can score anything from Din Tai Fung's dumplings to local cheesemaker, Beecher's, mac & cheese.
5p.m. Play mini-golf (and drink) at Beer & Putt-Putt
Whether you're high from winning or need to drown your loss, point your party North a few blocks and settle in at Flatstick Pub. Order a round of craft beers and tee-up for the mini-golf courses spread throughout the indoor space, lined by Pioneer Square's brick walls. Discover for yourself what a duffleboard is, and for those sore losers in the pack, work it out on the course with another round…or ten.
7p.m. Take A Tour Of The Underworld
Since you're in one of the city's oldest neighborhoods, it's time for a history lesson – and we're not talkin' dry lectures in hard chairs. Learn about Seattle's seedier past and go underneath the city streets (literally!) with the Underworld Tour (the nighttime, adults-only version of the popular Underground Tour). A cocktail is included with your ticket, as well as saucy tales from the former red light district.
9p.m. Eat A Seafood Dinner
Once you've emerged above ground, start walking North towards downtown for eight blocks. Your collective growling stomachs will be amply rewarded once you've reached the evening's dinner destination, Matt's in the Market. The establishment is a favorite among locals and visitors alike for their fresh ingredients – especially seafood, like geoduck – sourced straight from Pike Place Market. Plus, you'll be treated to a scenic overlook of Elliott Bay and the market's famous clock (and you really should hit up at least one place with a classy wine list on this trip, right?).
11:15p.m. See Some Burlesque
Once you guys have had a chance to dine and digest, head back below ground at the market (are you sensing a theme here?) to the Can Can for The Midnight Show. Known for its burlesque scene, Seattle shines at this bawdy form of entertainment – it is, after all, the birthplace of Gypsy Rose Lee. Prepare to be dazzled with acrobatics, raunchy comedy and plenty of tease, via twirling tassels.
Day 3
10a.m. Start Your Day With Dim Sum
Dim Sum is the hangover breakfast of champions. Once the group's put pants on, make towards the Link, and get off at the International District stop. Aim straight for Harbor City Restaurant, one of the best dim sum spots in town. The portions are hearty and the dishes don't disappoint, but you may have quite a wait on your hands. Can't wait? Run around the corner to Dim Sum King where you can buy a few pieces to-go to tide you over, or check-out specialty supermarket, Uwajimaya for some pre-brunch bites and a chance to browse food and products from all over Asia.
1p.m. Go Kayaking
A 15-minute walk to the waterfront will be necessary after so much grub. Board the West Seattle Water Taxi and get off at Seacrest Park where you'll find the outpost for Alki Kayak Tours. AKT lets you book custom tours, and being out on Puget Sound offers stunning views of both the city and the Olympic Mountains. You'll also have a chance to scout wildlife, from seals to bald eagles – not to mention a chance to paddle out some of those toxins. If you're still famished afterwards, grab some kimchi quesadillas from Marination Ma Kai next door.
4p.m. Throw Some Axes
If you've ever secretly dreamed about being a lumberjack, now's the chance to put your skills to the test. Time to take a rideshare fellas, and head down to Axe Kickers. Once you arrive, a guard will walk you through competitive games and throwing techniques. Find out who's the woodsiest of them all, while busting each other's chops between throws.
7p.m. Eat A Fried Chicken Dinner
Who's ready for a drink? Time to pile back into a rideshare and make for your hard earned dinner at Ma'ono Fried Chicken and Whisky. You'll find a proverbial pu pu platter of delectable Hawaiian inspired dishes, including sweet rolls, oxtail soup, curried bacon fried rice and spam musubi. But the real star of the show is the fried chicken, which you can order whole, but is so popular you'll need to reserve your chicken with your table.
9:30p.m. Grab A Night Cap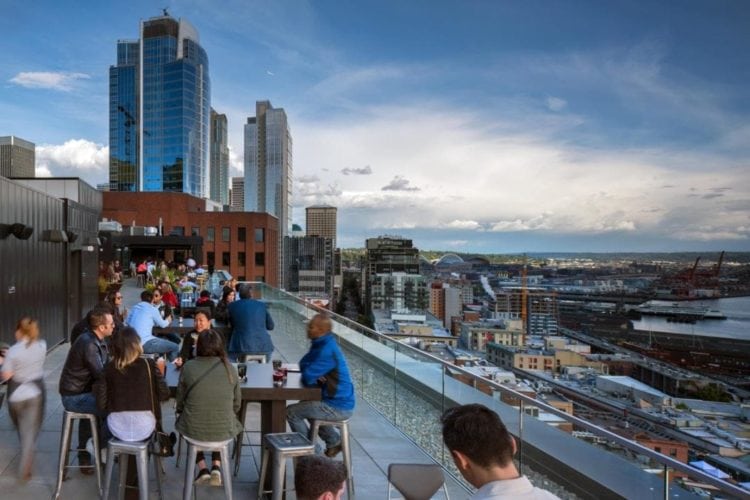 Ever taken a flight hungover? Spoiler alert: it's the worst. So, for your last night, take it down a notch while still ending on a high note. Put that rideshare app to use one more time and head towards the Thompson Seattle hotel. Take the elevator straight to the top, where you'll discover one of the best rooftop bars in town at The Nest. Cheers your dudes – against the backdrop of citylights with epic water and mountain views – to a bachelor party job well done.
Zero Hour
On flight day, you'll be heading back to Sea-Tac Airport on your now familiar friend, Link. Allow an hour to get down there, plus at least two hours before your flight to get through security. If flights are later in the day, consider one last excursion to a spot you missed like the fish throwers at Pike Place Market, The Center for Wooden Boats, the Living Computers museum, or the Ballard Locks. Once settled in the air, don't forget to look for Mt. Rainier, which is just as impressive from above as it is below, before passing out from exhaustion. Was it all just a dream?